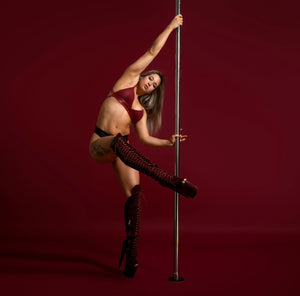 Learn a sexy, sassy and energetic routine with elements on the floor, spins and dance moves. In this workshop, fluid movements, transitions between standing and floor and especially the feeling to be sexy and bad ass are the main topic.
Learn a choreography in Jazzys style and light the room on fire!
Open level
Requirements:
Plateau High Heels (for ex. Pleaser)
Knee Pads (or similar protection for knees)
Time: Saturday 2.12.2023 17:45 -19:15 90min
Instructor: @Jazzykpole
Impi members -15% use code ImpiJäsen
CANCELLATION POLICY!
The purchase of the workshop is a binding registration. We will only refund the money if you get sick and cancel your participation before the workshop and you also provide a doctor's certificate. However, you can always sell your place to someone if you cannot participate yourself. You can also ask if there is anyone in the waiting list call or message +358505434615