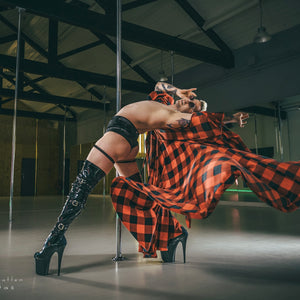 WARNING: Workshop too hot for your own good! Learn a badass Jakub style heels routine a.k.a. boss ass kip bitch meets heel clacks meets fluidity meets dance like you're broke and your rent is due tomorrow.
Workshop suitable for ALL LEVELS (difficult tricks will have their easier alternatives, so anyone can complete the routine). 

Heels and knee pads required.
Time: Saturday 30.9.2023 at 15:05-16:20  (75 min)
Instructor: Jakub Kolasa / @the_pole_wizard
Impi members -15% use code ImpiJäsen
CANCELLATION POLICY!
The purchase of the workshop is a binding registration. We will only refund the money if you get sick and cancel your participation before the workshop and you also provide a doctor's certificate. However, you can always sell your place to someone if you cannot participate yourself. You can also ask if there is anyone in the waiting list call or message +358505434615