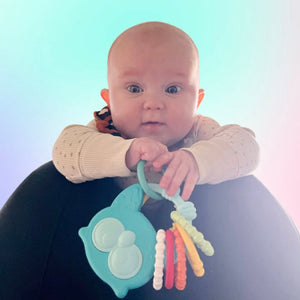 Welcome to the baby circus, a magical place where the interaction and relationship between the adult and the child is strengthened while exploring the world through the magical world of the circus.
These lessons are specially designed for a joint adventure for young children and their parents or caregivers. baby circus combines exercise, art and play, offering a unique opportunity to learn and grow together.
During the classes, children and adults can enjoy circus-like games that develop body control and balance. You get to do tricks, try couple acrobatics together with your own adult, and learn about circus and aerial acrobatics equipment. These moments are not only physical exercise, but also strengthen trust, interaction and affection between child and adult.
Baby circus offers children the opportunity to develop their motor skills and learn together with their adults. At the same time, it creates moments of special connection that will be remembered by both children and adults.
Welcome to the baby circus, where the world opens up in a new and wonderful way through the magical world of the circus.
The group is aimed at children aged 4 months to 12 months.
A total of 17 times
Schedule: 17.1.-22.5.2024
Wednesdays: 11.15-12.00
NOTE! No classes during the winter holidays on 21.2. and not on Labor Day 1.5.
Directed by: Yon
Impi Studio members use the discount code ImpiJäsen - 15% of the price
Student/unemployed use the discount code ALENNUSR -15% of the price
After the purchase, the student must send a copy of the student card/certificate by e-mail.
The condition for the unemployment discount is that you email the latest daily allowance payment receipt or calculation or Kela's/unemployment fund's daily allowance decision.
e-mail store@impi.fi
In case of illness: If the child or you fall ill and cannot participate, please contact us on WhatsApp or by calling +358505434615. In case of illness, the parent gets a replacement visit that can be used as they wish, for example in aerial yoga.