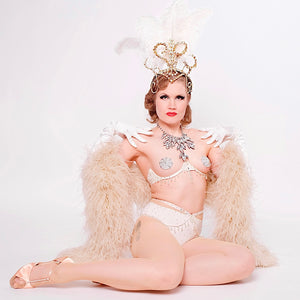 Burly Moves is a seductively wonderful dance class by the burlesque artist Goldie Starlett. In this class you get to move to the rhythm of the music, enjoy the joy of dancing and experience the best thing in the world - burlesque!

In the course you adopt a burlesque attitude, boldly create an atmosphere of the individual charm of your own body and movement, and enjoy uninhibited feminine movement language and sensual gestures, diving into the enchanting world of burlesque. During the course, you'll learn classical burlesque dance technique and a wonderfully seductive choreography.
The course is suitable for you if you have basic functional ability and a little body control (you can go to the floor on your knees in the middle of the dance, etc.) and you have danced at least some type of dance style before or even danced on a night club table. People with no dance skills, no sense of rhythm, and first-timers are also welcome if they have a different background in sports. Experience with burlesque-based dances or an art hobby is not necessary. Even experienced burlesque dancers are warmly welcome. Although the course is so-called no-level class, i.e. it is suitable for dancers of many levels, the progress during this course is a little faster than in "very beginner courses".
With this course, you can perform if you want, because IMPI has parties several times a year! During the course, the group piece will be rehearsed for performance. If performing doesn't appeal to you, don't worry: in these classes you can dance for your own pleasure, even if some of the group would decide to perform. In order to perform, you must commit to rehearse the choreography at home also between classes.
No undressing during classes. You can dance with socks or heels, soft-soled indoor dance shoes and in comfortable clothes that allow you to move. You need a water bottle with you, and if you have soft knee pads suitable for dancing, take them with you (knee pads can also be bought at IMPI Studio).
Age limit 16 years. Suitable for everyone regardless of background, gender and body size or shape. No upper age limit for participation.
A total of 20 times
Schedule: 8.1.-27.5.2024
Mondays at 16:25-17:25
NOTE! No hours on Easter Monday, April 1.
***
Director: GOLDIE STARLETT
Goldie Starlett is a burlesque artist and community pedagogue from Helsinki.
Goldie performs all over Finland in burlesque art as a solo dancer and in two duos. Goldie also teaches classes, and produces burlesque events. Since spring 2020, Goldie has been teaching burlesque and dance at civic and adult colleges, associations, dance schools and private lessons (Kirkkonummi, Vantaa, Helsinki, Kuopio, Hämeenlinna, Tampere, Seinäjoki, Karjaa & Hyvinkää). Goldie has been dancing burlesque-based dances since 2015, and works full-time as a professional artist with the support of art grants and as a burlesque entrepreneur.
Find out here: instagram.com/goldiestarlett & facebook.com/goldie.starlett.burlesque.art
***
BURLESQUE
Burlesque is performing erotic stage art, which can include e.g. theatre, dance, comedy and stripping. Burlesque is a free art and anyone can do it. Burlesque is the art of covering up, revealing and exaggerating. Burlesque is not only art, entertainment and escapism, but also activism that takes a stand and drives change in society.
Create an account in our reservation system www.varaaheti.fi/impi and we will add you to each class.
Cancellation policies: Cancellations from the appointment system 6 hours before the start of the class. Notification by e-mail store@impi.fi. Absence can be replaced with any weekly class in the reservation system. We compensate a maximum of 1 hour/season.
In case of illness: If you fall ill or your child falls ill (less than 6 hours before the class) and you cannot participate, please contact us on WhatsApp or by calling +358505434615. Compensation will be agreed with each person separately.
Uncancelled lessons cannot be compensated.
Impi Studio members use the discount code ImpiJäsen - 15% of the price
Student/unemployed use the discount code ALENNUSR -15% of the price
After the purchase, the student must send a copy of the student card/certificate by e-mail.
The condition for the unemployment discount is that you email the latest daily allowance payment receipt or calculation or Kela's/unemployment fund's daily allowance decision.
e-mail store@impi.fi