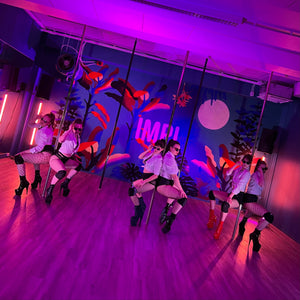 In the course, choreography is built and danced in platform heels with showmeining. Chaos Group is a group that has danced together for a year and aims to perform.
If you haven't been to Chaos Group before and want to join, first contact our instructor Tina on Instagram @poledancingshowgirl

Directed by: Tina
Schedule: Sundays

The course includes a total of 4 hours of teaching

Impi Studio member -15% with code ImpiJäsen
Student/unemployed use the discount code ALENNUSR -15% of the price
The student must show a valid student card before the first lesson. The condition for the unemployment discount is that you prove your unemployment before the first hour by showing the receipt or calculation of the latest daily allowance payment or the daily allowance decision of Kela/unemployment fund.