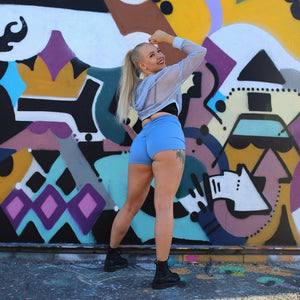 This class is a choreographic twerk dance class. In this class you get to find your own sensual movement style within twerking and we also aim to promote self-confidence and self-expression.
You will learn twerk dance moves and techniques. We focus on creating a safe and non-judgemental environment where everyone can freely express themselves and celebrate their uniqueness.
The atmosphere in the class is inspiring, and the participants support each other in the learning process. We create a safe and inclusive space where everyone, regardless of background, gender and fitness level, can feel comfortable exploring their sensuality. This is a place where you can be your authentic self and enjoy a fun time together.
If you wish, you can also participate in Impi Studio's screenings.
Twerk's history is rooted in African dance and culture, but its modern form developed in the United States among African Americans. The dance was originally known as "booty dancing" or "bounce" and originated from the hip-hop and bounce music of the New Orleans area in the 1990's.
The main features of twerk are strong hip movements and it is especially known for the movements of the buttocks. The dance gained a strong position, especially in hip-hop and rap music videos, in which performing artists and dancers began to present twerk-style moves.
Although twerk has received a lot of attention and has been combined with other dance styles, we respect its original roots.
In the class it's recommended that you wear comfortable clothes and knee pads.
A total of 20 class
Schedule: 8.1.-27.5.2024
Mondays at 17:30-18:30
NOTE! No classes 1.4. on Easter Monday
Directed by: Yana
Create an account in our reservation system www.varaaheti.fi/impi and we will add you to each lesson.
Cancellation policies: Cancellations from the appointment system 6 hours before the start of the class. Notification by e-mail store@impi.fi. Absence can be replaced with any weekly class in the reservation system. We compensate a maximum of 1 hour/season.
In case of illness: If you fall ill or your child falls ill (less than 6 hours before the class) and you cannot participate, please contact us on WhatsApp or by calling +358505434615. Compensation will be agreed with each person individually.
Uncancelled lessons cannot be compensated.
Impi Studio members use the discount code ImpiJäsen - 15% of the price
Student/unemployed use the discount code ALENNUSR -15% of the price
After the purchase, the student must send a copy of the student card/certificate by e-mail.
The condition for the unemployment discount is that you email the latest daily allowance payment receipt or calculation or Kela's/unemployment fund's daily allowance decision.
e-mail store@impi.fi